Jewish Neighborhood Voices

The Wyner Family Jewish Heritage Center (JHC) at New England Historic Genealogical Society is seeking narrators for a Mass Humanities-funded project, Jewish Neighborhood Voices: Using Oral History to Link Massachusetts's Past and Present Communities. This pilot project will conduct approximately 20 oral history interviews with narrators (interviewees) who are the first- or second-generation members of families that came to the United States in the early to mid-twentieth century, and settled in Dorchester, Roxbury, Chelsea, and Lynn. The JHC is currently seeking potential narrators from Lynn, Dorchester, and Roxbury.
Since many of the historically Jewish neighborhoods and cities in Massachusetts today have very different ethnic, socioeconomic, and demographic compositions, "Jewish Neighborhood Voices" will collect first-hand accounts about the people, organizations, and industries that populated them in the first half of the 20th century. Audiences will both learn about the vital contributions that the Jewish community has made to Massachusetts through these oral history interviews, and better understand the richly textured and layered history of their communities. The collected interviews will be used in conjunction with the JHC archives to develop an online exhibit; they will also be available online in the JHC's digital archive.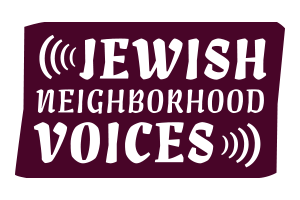 Narrator Criteria:
Because this is a pilot project, we are initially interviewing 5 people each about Lynn, Roxbury, and Dorchester. We anticipate a lot of interest, however, so we will keep a list of interested interviewees for future phases of the project! If you believe you match our criteria, please send an email stating your interest and how you fit the criteria to Stephanie Call at stephanie.call@nehgs.org by January 31, 2022. We will notify all those selected for this round of interviews by February 25th.
You grew up in Lynn, Dorchester, or Roxbury or spent a formative amount of time in those neighborhoods with family or through a business. (Please provide details about this. "Formative" to us means that you consider this neighborhood community part of your identity.)
You are a first or second-generation American with family that came to the U.S. in the early to mid-twentieth century. (You are the first- or second- generation removed from your immigrant family member.)
You live in Massachusetts. (If you live part-time elsewhere, that's fine as long as Massachusetts is your primary address or you can guarantee you will be in Massachusetts between May and July 2022.)
You are available to meet with an interviewer between May and July 2022.
You are comfortable meeting an interviewer in person, at your home. Interviewers will be members of one of our partner organizations, or associated with the JHC, and trained in oral history interviewing techniques.
You are comfortable being recorded and agree to have your interview online in the JHC digital archive and included in the final exhibit. In addition, if you have family or business archives in an archival repository (either with the JHC or another archive) please note that in your response.
Please contact stephanie.call@nehgs.org with any questions you have. Thank you for your consideration and we look forward to hearing from you!

Alan Pierce
Herb Selesnick
Lynda Bussgang, Hebrew SeniorLife
Jessie Klein, Jewish Genealogical Society of Greater Boston
Carolyn Kohlman, Jewish Genealogical Society of Greater Boston
Thomas Barth, Walnut Street Shul
Ed Medros, Walnut Street Shul
Ellen Rovner, Walnut Street Shul
Humanities Advisor: Judith Monachina, Housatonic Heritage Oral History Center at Berkshire Community College
Alan Pierce
Herb Selesnick
Ellen Rovner